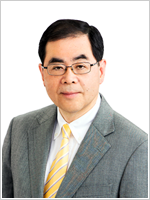 Executive Director
Makoto "Mack" Yaori
My involvement with The Privacy Mark System(hereinafter "PrivacyMark") began when I was a member of the board of directors at an Internet-related service subsidiary of Sumitomo Corporation from 2002 to 2007. As the administrator of Personal Information Protection Management System(hereinafter "PMS"), I helped the company to get PrivacyMark accreditation in March 2005. After I was assigned back to Sumitomo Corporation head office, I got the special permission by Human Resources Department and became an Assessor of PrivacyMark while I work as a Sumitomo employee. Since 2008, I have supported various B-to-C subsidiaries of Sumitomo Corporation to build and properly manage PMS under PrivacyMark system making use of my professional knowledge as a PrivacyMark Assessor. To date, there are 62 companies which have received PrivacyMark accreditation in Sumitomo Corporation group and I have directly and indirectly supported these companies. This is my chief achievement which I am most proud of.
The Japanese Personal Information Protection Law was put into effect in April 2005, one month after my first PrivacyMark accreditation. It can be said that I have walked along with The Personal Information Protection Law ever since. In May 2017, the major amendment of The Personal Information Protection Law was put into effect and JIS Standard JIS Q15001 which are the criterion of PrivacyMark will also be significantly revised in conformity with the ISO International Standards Management System. At this time of the change, with cooperation of my competent PrivacyMark Assessor friends, we have decided to establish a consulting company to help and support to get PrivacyMark accreditation and manage PMS.
The naming of "Sinceport".
We picked up the company's name "Sinceport" from "sincere" and "support".
"Sincere support" is what we would like to offer to our clients.